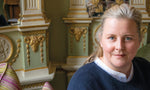 The end of April marked Aromatherapy Associates winning 6 CEW Beauty Awards, otherwise known as the Beauty Oscars of the industry. We won;
Best British Brand
Best Classic Beauty Product
Best New Bath & Body Product – Revive Body Lotion
Best New Wellbeing Product – Inner Strength Soothing Face Oil
Best New Men's Grooming Product – The Refinery Shampoo
Classic FM's Beauty Hall of Fame – Deep Relax Bath & Shower Oil
We are extremely delighted and proud to be winners of 6 awards at the Beauty Oscars. This is an unprecedented result in the industry and we are so honoured and grateful to everyone who voted for us. It has left a really warm feeling for myself and the team, also a great way to honour our amazing founders.
It's been a busy month for me travelling around a lot. I visited some of our amazing spa partners; Mandarin Oriental in Barcelona, Galgorm in Ireland and The Coniston in Skipton. All wonderful spas with great teams and exceptional service.
It was half term last week; my daughter Ava is at Boarding School so it's always lovely to have some girl time. We went to a Health Detox Retreat together. This was actually Yvonne Wake's 50thBirthday present to me and 18 months later I finally got round to going! I took all of my Aromatherapy Associates Bath & Shower Oils with me, as I always do when travelling. The Inner Strength Skincare range is also a must-have for me, along with the De-Stress Muscle Gel especially as I knew it would be a tough physical week.
When we arrived at The Retreat we were immediately put on a juice diet for the first three days. Calories were slowly increased as the week went on. Every day we did circuit training, then boxing, followed by stretching and yoga an. My De-Stress Muscle Gel was a life saver at the end of the day!
Every day we had an hour massage with Dan Bentley. It was a meat free week at The Retreat, all of the food was beautifully prepared and from local sources.
In the afternoons I took myself off to my room to read. I've read three books this month;
Look Younger, Live Longer by Gayelord Hauser
The Emotional Intelligence by Travis Bradberry & Jean Greaves
Multipliers by Liz Wiseman
All recommended to me by my lovely friend, Lyndasy from the Fairmont Group. Some afternoons I would take myself outside and go for another walk and belt out 80s soul music, transporting me back to my younger years!
The farmhouse we stayed in was a beautiful 13th Century home owned by an artist, every room was different.
I am back in London for the rest of this month, ready to get back to the hustle and bustle after a very peaceful week away! Feeling brighter, lighter and energised. June we're coming to get you!
TW x