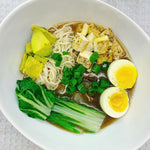 Guest post by Nora Minno, Aromatherapy Associates Eat, Move Wellbeing Ambassador
Looking to try a new healthy recipe? See below for my simple Veggie Ramen. It's a great way to incorporate veggies and plant-based protein into your diet.

Ingredients (for two servings):

1.5 tbsp. Sesame Oil
1/2 White Onion, Diced
2 tbsp. Fresh Ginger, Grated
2 cloves Garlic, Minced
4 Medium Shitake Mushrooms, Sliced
32 fl oz. Mushroom Broth
2 tbsp. Low Sodium Tamari or Soy Sauce
1.5 tbsp. Miso Paste
6 oz. Tofu
1 Bunch Baby Bok Choy
2 tbsp. Green Onions, Sliced
1 package Shirataki Noodles

2 Eggs, Soft Boiled 
1/2 Avocado, Sliced

1tsp Crushed Red Pepper Flakes (optional)

Directions:
Start by draining tofu and pressing water out. Place tofu on a plate and place another plate on top of the tofu block with a heavy object on top. Let sit while other ingredients begin to cook.

In a large pot, heat 1 tbsp. sesame oil over medium-high heat. Add onions and cook until softened (about 5 minutes).
Add garlic and ginger and cook for another 3 minutes.
Add sliced mushrooms and cook for another 3-5 minutes, until mushrooms are slightly softened.
Pour in mushroom broth and bring to a light simmer. Stir in tamari and miso paste, whisking until miso paste in blended into the broth. Reduce heat slightly and continue to simmer on low heat. If you would like to make your broth spicy, add in crushed pepper flakes to taste.
Meanwhile, fill a small saucepan 3/4 of the way full with water and bring to a boil. Soft boil eggs by placing in water and letting cook for 6-7 minutes. Remove from water (leaving water in the pot) and place the eggs in an ice bath to cool. Peel and set aside.
Take tofu from the plate and pour off the water. Slice into cubes. In a small frying pan, heat 0.5 tbsp. sesame oil over medium-high heat. Fry tofu for roughly 4-5 minutes on each side until brown and slightly crispy on each side. Set aside. 
Keep the pot of water hot that you used to boil your eggs and bring back to a boil. Slice your bundle of bok choy in half (length wise) and boil for 3 minutes (you can decide how soft you like your bok choy. If you would like to keep it softer, keep it in the water longer). Remove from water and set aside.
Rinse your shirataki noodles under warm water, drain, and place in broth. Let cook for 3-5 minutes in broth.
Begin to assemble your ramen. Divide broth and noodles evenly among 2 bowls. Top each bowl with 1 egg (sliced in half), half of the tofu, half the bok choy, half the avocado, and half the green onion. Top with extra crushed red pepper or Sriracha for extra spice.

Serve and Enjoy!

For more recipes like this, head over to www.noraminno.com