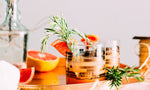 Staying Fit During the Holidays
Guest post by Nora Minno, Aromatherapy Associates Eat, Move Wellbeing Ambassador
The holidays, while filled with joy, can also be filled with travel, parties, and events that can pull you off track from your nutrition and fitness routine. Keeping a strong mind and body throughout this time of year is especially important so that you can feel your best and be present and strong for your loved ones. Below are a few tips and tricks to keep moving and eating well throughout the holiday season so you can feel your best and make the most of your time with friends and family.

The Weather Is Not An Excuse

When temperatures are frigid, you may not want to go for your typical walk or run, or even go out of the house to go to the gym. That's understandable, but don't let that keep you from getting your exercise in. There are plenty of great workouts that can be done at home using your own body weight or light equipment. There are also plenty of apps that allow you to exercise from the comfort (and warmth) of your own homes such as Daily Burn and Sweat.

If You're Moving, You're Winning

We all know that the holidays can be chaotic and our time and schedules are not always in our control. Even if you don't have time for a 45 or 60 minute workout, there are still plenty of workouts that can be effective in a short period of time. For example, HIIT workouts can have you burning calories in as little as 10, 20, or 30 minutes. Also, a quick 10 or 20 minute yoga flow can help your body and mind reset. No matter how much time you have, keep moving. If you need a quick boost to get you going, try the Revive Morning Roller Ball or the Revive Body Lotion.
Be Mindful At Your Meals
There is no doubt that the holidays can be stressful and when it comes to mealtime, you might not always be in the right mindset. Do your best to stay mindful at meals, meaning take the time to focus on what you're eating, why you're eating, and who you're eating with. Take a few moments before a meal to take a few deep breaths and gather your thoughts and bring intention to your eating. To keep your mind clear, try using the Aromatherapy Associates De-Stress Collection. My favorites include the De-Stress Mind Roller Ball and the De-Stress Frankincense Pure Essential Oil. If you're traveling, be sure to pack the De-Stress Edit Kit so that you can stay stress-free while on the road.

Portions are Everything

You may not always have control over what's at the table, especially if you're a guest at a dinner party, however, you do have control over how much you eat. Remember that portions served to you aren't always realistic and may double, or even triple a typical portion. Don't feel obligated to eat the whole thing. If you're serving yourself, be mindful of the portions and if you are still hungry after, you can always go back for more.

Prioritize Your Health

The holidays can include traveling, hosting, long days, and long nights- not always the best for staying healthy and fighting off winter colds. If your health suffers, your exercise and diet are most likely to suffer as well. Be sure to prioritize your health by sleeping, eating lots of fruits and vegetables, drinking lots of water, and using tools like Support Breathe Essence to fight off colds and flu's.