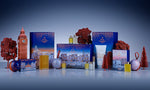 Your Guide To A Meaningful Gift
The festive season is a time for giving and a time to relax. It is time to stop and take a break, to reflect on what is important: our loved ones, our happiness, our wellbeing. We know if we want to be the best possible version of ourselves, we all need to take a little time to fnd balance in both body and mind. We've created this gift guide for you to enjoy our selection of gifts and enjoy a moment of peace for you or a loved one. 
Enjoy a moment's peace with this luxurious blend of Rose essential oil to boost your spirits and feel radiant both inside and out. Simply add to your bath or shower ritual. 
THE PERFECT GIFT FOR: 
A special someone 
Leaders
Lovers of Rose
GREAT FOR:
Boosting confidence
A little self indulgence
Sometimes we don't always know what our mind and body need. This complete collection with all of our award winning Bath & Shower Oils is the perfect way to discover the power of aromatherapy..
THE PERFECT GIFT FOR:
Someone who knows they need to take care of themselves but doesn't know where to start
People who want to make healthier lifestyle choices and care about their wellbeing
People who love indulgent bathing
GREAT FOR: Whether you struggle to fall asleep at night or wake up in the morning, just need to unwind or looking for an emotional uplift, there is an oil for every need. Let your sense of smell guide you to your most needed blend each day. 
Introducing our festive baubles: the perfect gift to hang on your tree, for a stocking ller, a Secret Santa, festive favours, a colleague or your child's favourite teacher.
Precious Revive Time
Awakening your mind and body leaving you ready for the day ahead
Precious De-Stress Time
Soothing aching muscles
Precious Support Time
Fighting off coughs and colds and helping you feel better when you have one
Treat your body and mind to the calming powers of Rosemary, Frankincense and Lavender essential oils in this de-stressing collection. Collection includes a special edition of our best selling De-Stress Muscle Gel with a London inspired design
THE PERFECT GIFT FOR:
Anyone who leads an active lifestyle
Marathon runners and sports challenge lovers 
Someone who has an overactive mind
GREAT FOR:
Soothing aching muscles
Releasing tension
Switching off and relaxing Composing and calming a busy mind
Treat yourself to the deeply relaxing powers of Vetivert, Camomile and Sandalwood. This bedtime indulgent set will allow you to experience a tranquil and relaxing night's sleep. 
THE PERFECT GIFT FOR:
Those who need to restore their energy
Someone who spends lots of time in different time zones People who sleep in a noisy or light pollution environment Someone going through life changes
GREAT FOR:
A restorative deep sleep The night before a big event A purposeful, calming ritual 
Awaken your mind and body with a boost of energy throughout the day and deeply relax and unwind at night with the powers of aromatherapy. The perfect mood setter. 
THE PERFECT GIFT FOR:
Jetsetters / Travellers
Someone who is always on the go
Commuters
Someone who needs to take a moment to escape from what they are doing or where they are
GREAT FOR:
Wellbeing and relaxation on the go Travel companion