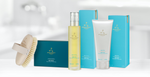 Brush your way to a firmer, brighter, more energised body
We were SO happy to see dry body brushing recently recommended on BBC's 'The Truth About Looking Good' programme as the most effective cellulite treatment trialled. We have been sharing our positive experiences about this technique for many years through our treatments.  
Dry body brushing is incredibly beneficial in so many ways…
 

It encourages the renewal of new healthy cells by sweeping away dead skin cells
Improves blood circulation and lymphatic drainage
Clears your skin ready for better absorption of your body products
Leaves you feeling energised and refreshed with smoother, brighter skin
HOW TO: Body brush 
See amazing improvements in skin texture from our simple, daily 2-minute pre-bath or shower routine. 
STEP ONE: On dry skin, starting from your toes, gently brush with short lifting strokes all the way up and around one leg, then the next.
STEP TWO: Continue to brush around your torso upwards towards your heart.  Careful around sensitive areas, and focusing on the stomach and waist to get the circulation really going around those stubborn areas.
STEP THREE: Brush along and around each arm, again towards the heart, and finish across your shoulders.
STEP FOUR: Step into your bath or shower using Revive Body Wash to cleanse, then finish by either massaging in Revive Body Oil to intensively nourish, or Revive Body Gel for a lighter formulation that will continue to refine the texture of your skin.
OUR POLISHING BODY BRUSH
Experience the intensely stimulating and toning power of our Polishing Body Brush, made with a responsibly sourced wooden handle, natural cactus sisal bristles to leave your skin feeling energised, refreshed and smooth.
"Your Lymphatic system is a network of tissues and organs that help the body get rid of toxins, waste and other unwanted materials which is exactly what you need when preparing for your perfect summer skin. Use our Polishing Body Brush daily to stimulate this natural process and start seeing real results'