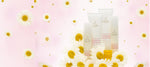 INNER STRENGTH SKIN CARE COMING SOON
Calling all Inner Strength fans, we're vey excited to announce that we will be unveiling our Inner Strength Skin Care in September. In the lead up to the big launch, we're here to give you a little bit more detail on our newest skin care collection. 

What is Inner Strength Skin Care about?

Inner Strength has been specifically developed for sensitive skin and is designed to rebuild the skin's natural strength and protect it from effects of emotional and environmental stress. The new Inner Strength skin care is packed with essential blends to help soothe irritated sensitive skin. Camomile essential oil calms the mind and soothes the skin whilst prebiotic technology rebuilds and protects the skin's natural defence system. It also includes Cotton Thistle Flower which works to restore the skin's dermis and epidermis along with Arnica Flower which works as a natural anti-inflammatory. 

What is Sensitive Skin? 

Sensitive skin occurs when the skin's natural defence system breaks down and causes inflammation which is usually caused by pollution and environmental stress. The skin weakens and becomes more sensitive as it is exposed to external aggressors on a daily basis. Our new skin care collection has been dermatologically tested to rebuild your skin's defence system and to counter skin inflammation. 

What is in the Skin Care Collection?

The Inner Strength Collection includes five products to give you the complete Inner Strength experience. 


When will the Inner Strength Skin Care Collection be available? Inner Strength Skin Care will be available online in the UK from September so keep your eyes peeled for the big launch! In the meantime, browse our Inner Strength Bath & Body collection online or share with us what gives you Inner Strength on our social! #FindYourInnerStrength