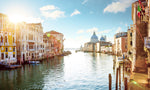 Packing For a Weekend Away
Preparing for a trip away long or short can sometimes end up being more stressful than enjoyable! These simple tips will help make your packing more seamless, giving you more time to enjoy your trip rather than worrying if you've packed everything!
Make a packing list - It may seem a bit excessive for a short weekend break but a quick packing list can ensure that you have all the necessary items, without under or overpacking, giving you more time to enjoy your trip! Be sure to check the weather at your destination online as well as factoring an events or activities you may be doing to make this step even easier. Outfits rather than single items – to maximise the effectiveness of your packing, pack outfits rather than singular clothing items. For example – packing a top with a pair of jeans that you know go well together is going to prove much more helpful than a skirt and a jumper that don't match, that you won't be able to wear. Be brutally honest with yourself and only pack clothes you know you'll wear not what you think you'll wear.
Inflight Pamper - If your weekend away involves a short flight, it is the perfect excuse to indulge in some pampering not only to relax but to help keep skin hydrated. Take your Hydrating Rose Face Mask in your hand luggage and as soon as you're in the air, apply on your face, leaving until just before landing. You'll arrive at your destination fresh faced, hydrated and ready to enjoy your weekend! Other ultimate plane essentials are the Deep Relax Roller Ball to help aid sleep if you need a quick nap and Support Breathe Essence which can be used to help avoid catching a cold from other passengers!
Travel Toiletries - Invest in travel sizes of products you know and love, being away from home doesn't have to disrupt your routine.
The Miniature Bath & Shower Oil Collection is the ultimate travel product if you want to indulge in some 'me-time' whilst away. Containing all 10 of our popular Bath & Shower Oils, you can enjoy all the benefits you're used to in this handy travel sized collection. A useful tip for when you return home is to keep a small container in your bathroom, labelled as 'travel minis' and whatever oils bring back from your trip, you can store safely and simply grab them when heading away next.