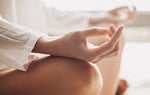 As September is in full swing and the nights are getting longer, most of us are experiencing holiday blues and missing the warmer summer days. While we're getting ready to make the Autumn transition we thought we'd share a few tips to welcome the seasonal change.
The Perfect Night In 

Whether you're simply looking to indulge after coming home from a long day at work or if the kids going back to school means you have a little bit more time to treat yourself, plan the perfect evening with a Deep Relax Bath & Shower Oil to unwind from your busy day. Take a moment to think of yourself with your favourite herbal tea and add a couple of drops of the essential Bath & Shower Oil to your bath allowing the powers of vetiver, camomile and sandalwood to work their magic. If you are more of a shower fan, apply a couple of drops to your body in the shower and leave on for a couple of moments before washing off with warm water. 

Extend your moment of relaxation by reading a good book as the Deep Relax Candle transforms your surroundings into a haven of calm and serenity creating the perfect mood in your room for you to leave behind all the day's stress. 

Going back to the Gym 

For most of us Summer is well spent enjoying an evening out with friends and family with the slight possibility of overindulging. Autumn is the perfect time to get back into shape by going back to the gym or taking up an exercise class. To help you ease the pain after an intense session, try our De-Stress Muscle Gel, with rosemary, black pepper, lavender and ginger to help your body destress. 

Hydrate your Skin 

With the change of weather, your skin is more prone to dehydration causing it to look and feel dry. Give your skin some TLC with a new beauty regime to help keep your skin glowing and hydrated throughout the colder days. Include layer locking as part of your skin care by starting off with a cleanser then applying serum, face oil and finishing off with a moisturiser. 

Weekend Getaway 

With Summer ending there's no reason why you can't plan a quick weekend getaway to enjoy some time away. Planning a trip abroad or even to the country side can give you some time to forget about the city stress and provide you with a mindful moment to reflect on your thoughts. A moment of reflection and mindfulness is important to ensure you have a healthy mind-set and a fresh outlook so that you can go back to your day to day feeling refreshed and ready to tackle anything that comes your way. Ensure you check out our travel sets to ensure you have your favourites with you wherever you go.